If you are considering a reverse osmosis or carbon water filter system, I can help with installation, maintenance, and repair.
The first thing I'll want to know is where you're at with water filtration. Are you just learning about your options or have you already purchased a unit? Having dealt with these systems regularly over many years, I can offer assistance at any stage, from helping choose the best water filter system for your needs, to replacing the wrong type of system that is corroding your pipes.
I've installed and serviced many different makes and models of reverse osmosis and carbon water filter systems. I am the designated Bay Area Installer for Radiant Life® but I regularly recommend and install other types of filters such as Hydrotech, Everpure/Pentair, Bodyglove, or Watts. What matters most is that the choice meets your needs and budget, sometimes the best deal for you can be found at Home Depot, Costco, or on Amazon.
Types of Water Filtration Systems
---
Carbon Filter Water Filtration
Carbon filters are usually the least expensive choice and are perfect if your primary concern is bad taste or odors of your tap water. Activated carbon filters are the most common in household use because larger particles get caught on the surface of the charcoal, and the carbon absorbs 85% to 99% of other undesirable substances like lead, pesticides, pharmaceuticals, and chlorine.
---
Reverse Osmosis Water Filter System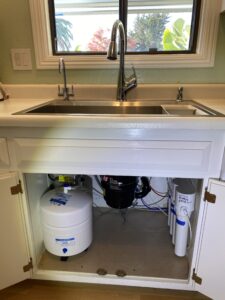 A good reverse osmosis water treatment system goes a step further than carbon filters can. They filter water at a molecular level – down to 0.0001 Microns. Reverse osmosis removes nearly 100% of everything but water. Notably, it removes some things that carbon can't like viruses, arsenic, fluoride, and certain parasites.
---
Whole-Home Water Filtration System
Whole-home or whole-house water treatment systems are not very common in Marin County. These systems are usually used in areas using well water or with particularly hard water. These systems treat all the water coming into your home. In Bay Area municipalities, these systems are used by those who wish to shower with filtered water and can afford the hefty price tag and regular maintenance. I am happy to discuss this option with you.
Point-of-Use Systems
The most common water filtration systems I install are point-of-use systems that deliver clean water to a single spigot, usually at the kitchen sink. These can be carbon filter or reverse osmosis systems. They are typically (but not always) installed under the sink.
Why Do You Need One?
If you're still reading this, you probably don't need to be convinced why you need a water filtration system. Typically though the most common reason is simply to make water taste better. Health concerns, economy over bottled water, and eliminating plastic bottle use are other reasons people install water filtration systems.
My Promise to You
As a plumber in Marin County for over 30 years, I know your time is valuable. That's why my clients value my attention to detail. You can rely on me to get the job done right the FIRST time. The last thing busy people want is to have to make arrangements to fix an improper installation. That's why I always use the best materials, best practices, and go the extra step to test everything thoroughly. My work is guaranteed.
Premium Service
Doing installations right the first time requires just a little extra effort, but that can save time, mess, and frayed nerves. Marin Plumbing is known for top-teir service. It's my hope that my customers sleep a little better knowing that I installed their new water filtration system.
What Makes Marin Plumbing a Premium Service?
Marin Plumbing is owned and operated by me, Brian Cooke. When you hire Marin Plumbing, I will be the person who schedules your appointment and I will be the one who shows up at your door. I have been a plumber for over 33 years. I started the company in 1991 because I felt that customers in Marin County needed a plumber with higher professional standards.
You deserve a plumber who shows up on time and goes the extra mile to finish the job quickly. You deserve a plumber who maintains the highest levels of cleanliness both in terms of personal appearance and equipment.
Let's face it you don't want a plumber who brings other people's STUFF into your home. You also deserve a plumber who can communicate clearly the options you have for repair and alert you to upcoming problems. I don't claim to be clairvoyant and predict every future leak, but I have been around long enough to spot the telltale signs of future problems that you should be aware of.
You also deserve a plumber who upholds the highest levels of integrity. I will clearly explain all my charges and your options before I start work, and you will never be surprised by my bill.
Call me to discuss your options for water filtration 415-883-1243.